Studio Gear
Showing 1–40 of 73 results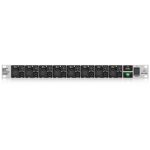 Behringer Ultragain Pro-8 Digital ADA8000
ULTRAGAIN PRO-8 DIGITAL ADA8000
The 8 In/8 Out ULTRAGAIN ADA8000 ADAT Audio Interface is one of our all-time, best-selling products. The incredible ADA8000 features audiophile-grade 24-bit A/D - D/A converters for ultimate signal integrity, optical ADAT in/out interface for ultimate compatibility, and our "Invisible" Mic Preamps – making it the natural choice of professional musicians and audio engineers alike. Your recording tracks will sound just as amazing as you imagined them – when you lay them down with the ADA8000!
ADAT-Ready
The ADA8000 is sublimely easy to operate, fits neatly into a single rack space and, thanks to the 8 IMP "Invisible" mic preamps with switchable +48 V Phantom Power and audiophile-grade 24-bit A/D - D/A converters, you get incredibly detailed, pristine performance. Signal conversion takes place at your choice of 44.1 or 48 kHz with full 24-bit resolution. The ADAT Inputs and Outputs can be operated independently, as long as you use an identical wordclock signal. And ADA8000's operating frequency range is an ultra-wide 10 Hz to 24 kHz – at a very respectable, 48 kHz sampling rate. Put simply, the ULTRAGAIN ADA8000 is the professional's edge.
Outstanding "Invisible" Mic Preamps
The ULTRAGAIN ADA8000 features our ultra-low noise, high-headroom IMP "Invisible" mic preamps, which have been praised by audio professionals all over the world. These studio-grade mic preamps off er a staggering 130 dB of dynamic range, with a bandwidth that extends from below 10 Hz to over 200 kHz, and are perfectly matched to every conceivable microphone – with up to 60 dB gain and a +48 V phantom power supply. Armed with these outstanding mic preamps, the ADA8000 provides exceptionally-transparent and crystal-clear sonic performance – making it the ideal choice for both live sound and studio recording applications.

Call for Price
OUT OF STOCK