Studio Gear Stands
Showing all 16 results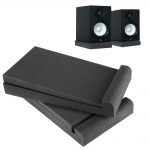 Studio Monitor Isolation Pads (Pair)
These Studio Monitor Isolation Pads have high-quality sponge material with high density and sufficient elasticity, combined with reasonable structural design, can effectively reduce the resonance generated by the sound vibration, making the sound more realistic and precise. The speaker monitors can be vertically forwarded in different combinations. Put it vertically, tilt it vertically forward or tilt it vertically backward to find the best direction of your own listening. At the same time, the tilt angle is also beneficial to reduce the standing wave of the room and improve the listening effect. The speaker pad can improve playback by isolating the display from the sitting display. This way, any vibrations generated by the monitor speakers will not be transferred to your desk, speaker stand, or shelf.
FEATURES:
Reduce vibration and unwanted audio resonance.
The energy is separated from the support surface, which significantly improves audio performance.
Made out of the highest quality sound-absorbing foam that easily supports the speakers without changing their shape.
You can adjust the angle of the speakers to pass the sound to your ears according to your sitting position.
not rated

PKR

3,900
Add to cart