Vilion
Showing 1–40 of 43 results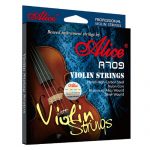 Alice A709 Nylon Core High Carbon Violin Strings
Alice violin strings are exclusively made, through internationally recognized winding and polishing techniques, from high quality material sourced in Germany, France, Japan and the USA.

These strings offer exceptional tone and longevity and, thus are increasingly becoming the preferred choice of musicians worldwide.

1 chord has two roots (E-1a/E-1b), can be usedby different choices.

Professional violin strings manufacture.

Advanced process technology.
Ea-1st Plated High-carbon Steel Eb-1st steel core, aluminum alloy wound A-2nd nylon core, Aluminum Alloy wound D-3rd nylon core, Aluminum Alloy wound G-4th nylon core, Silver wound
not rated

PKR

2,500
Add to cart