Digital Pianos
Showing 1–16 of 26 results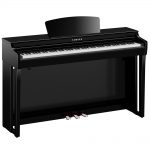 New Arrival!
Yamaha Clavinova CLP-725
The sound of some of the finest concert grand pianos in the world - Yamaha CFX and Bösendorfer Imperial
Clavinova grand piano sounds are recorded from several world-renowned concert grand pianos. One of them is the CFX, Yamaha's top-flight concert grand piano, which has been newly sampled for the CLP Series. Pianists around the world are enamored with the impressive, dazzling, richly expressive sound of the CFX in concert halls. Another sampled concert grand is the Imperial, the flagship model of Bösendorfer, a time-honored Viennese piano brand with an ardent following. The Imperial is known for its abundance of color and natural, warm feeling. Yamaha faithfully reproduces the idiosyncrasies of these concert grand pianos by carefully recording the entire tonal range of each of the 88 keys, making minute adjustments to capture the most harmonious tones each piano has to offer.
Available in: Polished Ebony, Black, White & Rosewood
Complete details & specifications, follow manufacturer's link:
Yamaha Clavinova CLP-725
not rated

Call for Price!
Read more