Harmonica
Showing 1–40 of 48 results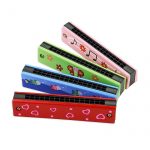 Creative 16 Hole Harmonica Mouth Organ
Introducing children to the world of music has never been more fun with this wooden bee harmonica. Featuring 16 holes, this creative toy encourages early education and fosters an appreciation for music in young children. The harmonica is designed with a cute bee theme that will excite and inspire children to explore the sounds and rhythms they can make. As well as being an enjoyable toy to play with, the wooden harmonica also helps develop essential skills such as fine motor skills and breath control. Made with high-quality materials, this harmonica is durable and safe for kids to use, making it the perfect educational and entertaining toy for any young child.
STRENGTHEN LUNGS, THROAT, AND LIPS Using this harmonica is great for kids to increase their lung power and capacity as well as control their mouth and throat. It can also improve their breathing and concentration.

SOLID AND THICK STRUCTURE The harmonica is lightweight, corrosion resistance, not easy to age and fall off, making the sound more beautiful and fuller.

PORTABLE MUSICAL INSTRUMENT - It's pocket-sized and can be brought in the car or bus, in the park or just at home.

QUALITY AND NON-TOXIC Wooden material plastic inner 16 holes.

PKR

900
Add to cart