Guitar Multi Effects
Showing all 36 results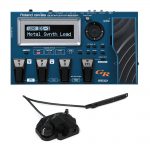 Roland GR-55 Guitar Synthesizer with GK-3 Pickup (Used)
EM Editors' Choice Award Winner!
With decades of experience developing the industry's hottest guitar synths, Roland's GR-55 guitar synth and effects processor gives you more incredible tones and features than ever before, making laggy and inaccurate tracking a thing of the past. When Roland designed the GR-55, they totally redeveloped their already leading pitch-detection technology to bring you their fastest guitar synth ever. Pitch, velocity, sustain - the GR-55 doesn't miss a thing! Using the included GK-3 hex pickup, your guitar can conjure up screaming leads, rich pads, piano accents, and much more.
COSM tone modeling
The GR-55 includes Roland's world-famous COSM tone modeling. This amazing processor core opens up never-before-explored realms of tone and texture shaping. From pop to rock to undiscovered genres of music, the GR-55 has the guitar tones you need to stand out. Dive in and create your own intensely intricate patches, or keep it simple and explore the hundreds of built-in tones onboard. The GR-55 has the perfect sounds for any music. On top of that, the GR-55 features an onboard USB memory music player with handy foot controls, so you can rock out with your favorite tones long after the rest of the band's packed up. If you're ready to discover a whole new world of mind-blowing guitar sounds, you're ready for the Roland GR-55!
Ultra-fast tracking provides incredibly responsive synth processing
Color: Black
3-pedal live control plus a built-in expression/volume pedal
Sound Generator: PCM (2 tones), COSM Modeling (1 tone)
Tones PCM: 910 types
Modeling: 23 types (guitar mode), 17 types (bass mode)
Effects MFX (Multi-Effects): 20 types
AMP (Preamp): 42 types
MOD (Modulation): 14 types
DELAY: 7 types
REVERB: 5 types
CHORUS: 4 types
EQ: 1 type
270 x Guitar patch memory presets (plus 297 user patches)
90 x Bass patch memory presets (plus 297 user patches)
240 x 64 LCD display
1 x 13-pin DIN GK input connector
1 x 1/4" guitar output jack
2 x 1/4" main outputs
1 x 1/4" stereo headphone output
MIDI in and out connectors
2 x USB port (computer connectivity and USB memory connector)
USB Memory Audio Player File Format: WAV, AIFF
Sampling resolution: 24-bit/44.1kHz

Call for Price
Read more