Guitar Multi Effects
Showing all 36 results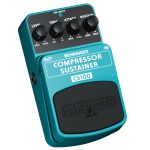 Behringer CS100 Compressor Sustainer
Ultimate Dynamics Effects Pedal
COMPRESSOR/SUSTAINER CS100
If tone is the name of your game, the COMPRESSOR/SUSTAINER CS100 will add amazing impact to your tone and provide endless sustain.
What's a Compressor?
Dynamics play an important role in music. They help to convey emotion, whether it's a sultry blues solo or the unrelenting gallop of unfettered metal. But uncontrolled dynamics can take all your best intentions and turn them into so much, well…mush. That's where compression comes in, softening loud sounds and boosting low signal levels to keep everything more uniform. So, a compressor's main job is to make every note the same volume.
Balancing Act
Ever notice how some strings on your guitar or bass sound louder than others? This is partly due to physics. Strings with lower mass just don't put out as much volume as the heavier ones. When used properly, a compressor makes all of the strings the same volume. Compressors are also great for slap-style bass players, making thumb slaps, string pulls and muted notes all the same volume, for an extremely percussive effect.

PKR

11,500
Add to cart