DSLR & Smart Phone Mics
Showing 1–40 of 64 results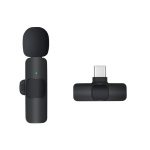 Free Shipping!
K8 Wireless Lavalier Collar Microphone C-Type & iPhone
All in One Mobile Wireless Microphone Solution
TSV is a groundbreaking wireless microphone with real-time transmission and synchronization of full-band stereo, designed for Video Vlogger, Blogger Content Creator, Interviewer, and Lecture. The microphone consists of transmitter and receiver, they both will automatically connect each other, just clip the wireless microphone to your collar and plug the receiver on your devices, APP and Bluetooth are not required. Advanced 2.4GHz wireless technologies, achieve 20 meters barrier-free connection, 0.009s delay in transmission, anti-interference, can clearly recording or taking video at a further distance. Omnidirectional microphone with professional-grade noise reduction chips and wind muff, enjoy intelligent noise reduction technology, effective identification of the original sound, clear recording in a noisy environment. This wireless microphone can sync the background music and human voice in real-time, reduce video post-editing, built-in high-sensitivity sound capture accessories offers professional full band audio 20Hz-20KHz stereo CD quality, and support multi-channel real-time mixing, provides you and your followers a better experience in watching videos. So the microphone is a good helper when you play Youtube / TikTok / WhatsApp or Facebook, conventional Bluetooth ones fail to realize. Built-in 80mAh lithium rechargeable battery, can be used continuously for 10 hours; Little finger size, the compact body won't take up so much room or adding too much weight, allows you to easily clip it to your collar or pocket. From now on, say goodbye to messy cables and poor noise cancellation, use the TSV Wireless Lavalier Microphone to create a music video, interview, and or dance videos. Mixing in your favorite music, shows, and movies have never been easier!
Type: Wireless Lavalier Microphone
Frequency: 2.4GHz; Transmission Distance: 20m barrier free
Frequency Response: 20Hz-20KHz
Input Voltage: DC4.8-5.4VBattery Capacity: 80mAh
Audio Interface: USB C port & Lightening Adapter for iPhone
not rated

PKR

4,000
Add to cart