Headphone Amplifiers
Showing all 13 results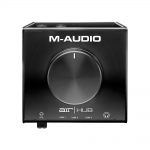 M-Audio AIR|Hub Monitor Station – Headphone Amp
3-in-1 Monitor Station, Headphone Amp, and USB Hub
If you, like many of us at Sweetwater, are an on-the-go music mixer or content creator, the M-Audio AIR|Hub is about as useful as they come. This one device combines a pro-grade monitoring station with an independent headphone amp and a USB hub for charging and interfacing devices. Audio is delivered to your ears or studio monitors in flawless 24-bit/96kHz quality, allowing you to make critical mix and mastering decisions at home or on the go. Meanwhile, and onboard USB hub keeps up to three of your devices — controllers, peripherals, or hard drives — connected to your workstation over a single rock-solid USB-C connection, with round-trip speeds as low as 2.59ms*. A software suite that includes Pro Tools | First DAW, 20 Avid effects plug-ins, the AIR Music Technology Xpand!2 virtual instrument, and 2GB of Touch Loops content equips you and the M-Audio AIR|Hub with all you need to start making great mixes straight out of the gate.
* 2.59ms latency is dependent on hardware and buffer settings
Command Central of your home studio
Combines a professional monitor controller, headphone amp, and 3-way USB hub
Rugged metal chassis
Breathtaking 24/96 conversion
Solid-feeling central knob quickly adjusts listening levels
1/4" headphone output with independent level control
3 USB ports for connection gear and peripherals
Includes USB-C and standard USB connection cables
High-speed USB-C
USB-C protocol (also compatible with USB 2.0) gives the AIR|Hub fast round-trip speeds — as low as 2.59ms — to minimize latency for critical monitoring. USB-C and standard USB connection cables are included.
Rugged tabletop form factor
The M-Audio AIR|Hub's desk-friendly form factor sits conveniently beside your laptop or controller, with an ergonomic tilt that improves visibility for desktop use. A feature we at Sweetwater have enjoyed in all recent AIR interfaces is the large central volume knob, which is unmistakable and easy to access for setting desired monitoring levels. The all-metal chassis feels great underhand and is sure to hold up to location mixing.
Included Software:
Pro Tools | First
20x Avid effects plug-ins
AIR Music Technology Xpand!2
2GB of Touch Loops content

PKR

27,000
Add to cart