Audio Interfaces
Showing 1–40 of 79 results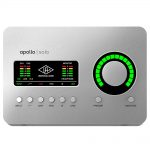 Universal Audio Apollo Solo Heritage Edition Thunderbolt 3
The Perfect Entry Point into UAD Powered Plug-ins
Loaded with UA's next-generation AD/DA converters and two Unison mic preamps, the Apollo Solo delivers top-shelf sound quality. What's more, the included suite of built-in UAD Powered Plug-ins lends an album-quality sheen to your projects. Whether you use them in real time during tracking or later while you're mixing, these powerful plug-ins supply you with access to an array of classic mic preamps, compressors, EQs, reverbs, and more. You can capture everything with near-zero latency, thanks to Thunderbolt 3 connectivity. And you get compatibility with UA's LUNA software, giving you a tightly integrated recording, editing, and mixing environment, with full software-based control over your interface's parameters, global console and tape emulations, and advanced real-time tracking. The Universal Audio Apollo Solo is a cost-effective way to enter into the world of UAD Powered Plug-ins and is a great way for UAD-equipped studios to take their projects mobile.
Thunderbolt 3 audio interface with 2 analog inputs and 2 analog outputs, plus 1 instrument input and a stereo headphone output
Sounds amazing, with next-generation AD/DA for maximum fidelity
Use outstanding UAD Powered Plug-ins for tracking and mixdown
Preamps sound pristine, and Unison technology gives you spot-on emulations of classic preamps
Includes Realtime Analog Classics plug-in bundle with accurate emulations of vintage analog hardware
Thunderbolt gives you ultra-low latency and huge bandwidth for higher sample rates and track counts
Compact, bus-powered design makes it perfect for mobile recording, mixing outside of your studio, and even performing live
Compatible with UA's LUNA software for ultra-tight hardware/software integration
Note: The Universal Audio Apollo Solo requires Thunderbolt 3 and is not backward compatible with earlier versions of Thunderbolt.
not rated

Call for Price
Read more