Acoustic Drums
Showing 1–16 of 28 results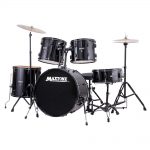 Maxtone Drum Set Black/Wine Red
Everything You Need to Get Started
We know that buying a first drum kit isn't easy. That's why we're excited to offer you the Maxtone 5-piece Complete drum set. The shells are made from poplar, which delivers a resonant and warm tone that you'll absolutely love. This drum set is an incredible value since it ships to your door with hardware, cymbals & throne. The great tone and top-notch hardware of the kit are paired with an eye-catching finish to make it a must-have for any drummer. This drum set is ready to be played, all you have to do is set up the drums to your liking and get rocking.
Includes everything you need
Deciding what hardware will work with your kit is a time-consuming process. To make things easier on you, Maxtone included everything you look for in a kit. You get a set of high-quality cymbals, cymbal stands, and a drum throne. The kit even includes sticks! The included kick pedal feels smooth and responsive while telescopic bass drum spurs prevent the kick from creeping away from you. As an added bonus, Maxtone threw in double-braced hardware to give your kit even more stability.
Poplar shells deliver a resonant, balanced tone
The shells of Maxtone kits are made from highly-resonant poplar. This lightweight tonewood is loved around the world for its full-blooded tone and quick decay. They roar to life when you strike them but don't linger and muddy up the mix. Whether you're jamming at home, onstage, or in the studio, these drums will be great for all-purpose playing as well as close-miking applications, poplar drums are just what you're looking for.
Maxtone 5-piece Complete Drum Set Features:
An affordable drum kit that plays well and sounds even better
Sizes: 12" and 13" toms, 16" floor tom, 22" kick drum, and 14" snare
Includes cymbals, stands, pedal, throne and drumsticks
Poplar shells create warm, resonant tone
High quality tension rods make precision tuning easier than ever
High quality hoops create the perfect balance between attack and sustain
not rated

PKR

55,000
Add to cart