Drums Recording
Showing all 12 results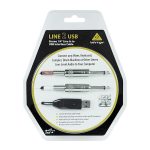 Behringer Line2USB Interface Cable
Plug in and Record
Need a dead-simple way to record your line-level gear? Whether it's a keyboard, drum machine, turntable, or any other line-level hardware, Behringer's Line2USB is among the simplest USB audio interfaces. The Line2USB includes a USB connector and a pair of 1/4" TS connectors on either end of a 6.6' cable, accommodating any stereo music hardware with unbalanced outputs. What's more, this universal USB interface delivers plug-and-play recording compatibility at up to 48kHz resolution with virtually any DAW software on Mac or Windows PCs.
Behringer Line2USB USB Audio Interface Features:
Ultra-simple 2-channel USB audio interface for line-level gear
Dual 1/4" TS plugs accommodate many unbalanced line-level sources
Ideal for keyboards, drum machines, and some turntables
USB connection offers plug-and-play compatibility for your DAW
Delivers digital audio at either 44.1kHz or 48kHz resolutions
Connect your line-level gear to your computer with a Behringer Line2USB!

PKR

12,500
Add to cart