Power Conditioners
Showing all 3 results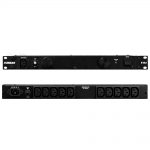 Furman M-10Lx E Power Conditioner with Lights
Power Conditioner and Rack light 19" 1U
Power filter and power distribution with 10 A maximum output current (2300 Watt)
Suitable for live applications and recording
AC Noise filter
Circuit breaker
Two retractable LED light fixtures with dimmer control
10x rear panel outlets and 1x front panel convenience outlet
Protection OK indicator
Overvoltage protection
Main power switch at front panel
19" / 1U
19 cm Depth
Weight 2.3 Kg
not rated

PKR

44,000
Add to cart
Sold out!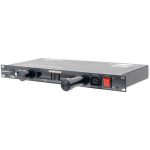 Samson PowerBrite PB10 Pro
The Samson POWERBRITE PB10 PRO Power Rackmount Power Conditioner and distribution unit. Protect your gear and organize your power distribution.
The Samson POWERBRITE PB10 PRO is a 19 inch rackmount power conditioner that makes the perfect addition to any rack case. On its front panel it features dual digital voltage multi meters to display input and output voltage levels, and two led lamps with dimmer control for illuminating your rack. With surge protection and peak voltage clamping the PB 10 Pro is ideal for clean uninterrupted power. The PowerBrite PB 10 Pro also has a gooseneck lamp included for lighting the rear of your rack case.
Protect your gear and organise your power distribution
19 inch rackmount power conditioner
Dual digital voltage displays
Front mounted dimmable led lamps
Rear mounted led gooseneck lamp
8 rear panel iec outlets
1 front panel iec outlet
Surge protection
Peak voltage spike clamping
Rfi / emi filtering
Dedicated switch for powering rear iec outlets
Front panel resettable 10 amp circuit breaker protects all connected gear
Four iec power cables included
not rated

PKR

47,000
Read more
not rated

PKR

70,000
Add to cart