Electric Guitar Amps
Showing 1–40 of 100 results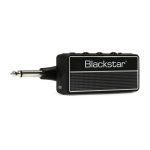 Blackstar amPlug 2 FLY – Guitar
A Great-sounding Guitar Amp for Your Headphones
Thanks to Blackstar's amPlug2 FLY, your practice sessions are about to get a whole lot more interesting. You get the great sound of a Blackstar — just plug in and you get amazing guitar amp tones right in your headphones. Three selectable channels and Blackstar's patented ISF control give you a great range of British and American amp sounds. You also get delay, chorus, and reverb effects to add depth and dimension to your already sweet amp tones. Blackstar's FLY series is famous for packing massive tone into a small, portable package, and amPlug2 FLY is no exception. Private rehearsals have never been more fun!
Amazing tone in a tiny package Blackstar's amPlug2 FLY is based on their top-selling FLY amplifier — a compact guitar amp with a massive sound. Three selectable channels — Clean, Crunch, and Lead — give you an array of sonic textures to choose from. This compact headphone amplifier also contains delay, chorus, and reverb effects, delivering a huge, spatial sound. The guitarists here at Sweetwater really dig the rich and full-fledged tone that amplug2 FLY produces. With it, you can play anytime and anywhere!
Get great tone anywhere With up to 17 hours of battery life, it's easy to take amPlug2 FLY anywhere. In addition to being an ideal home practice tool, amPlug2 FLY provides a great way to warm up before a live performance or while on the road. And amPlug2 FLY is not just a convenient way to get great guitar sound — it also features an auxiliary input jack so you can jam along with your music player.
Packs the sound of a Blackstar FLY into a compact headphone amplifier
Folding design rotates 180 degrees to fit any guitar
Auto power off feature to save battery life
Aux In jack lets you jam along with your music player
3 selectable channels and an ISF control give you a great range of British and American amp sounds
Onboard delay, chorus, and reverb effects add depth and dimension to your playing
Up to 17 hours of battery life with AAA batteries

PKR

21,000
Out of Stock