Keyboards/Pianos
Showing 1–40 of 120 results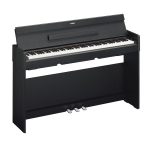 Yamaha Arius YDP-S34 Digital Piano
Modern living spaces can be cozy but are often not very roomy, so we need to be creative with how we use our space. The Arius YDP-S34 digital piano helps you express that creativity through a stylish, compact design that brings elegance to any room  - all the while delivering amazing sound quality.
Features the sound of the flagship Yamaha CFX concert grand piano, and renowned GHS keyboard action, bringing the most important elements of a piano together - touch and tone
Life can be busy, but we all need to take time to do the things that we love. Bringing the enjoyment of playing music into your life should be simple. With the Arius YDP-S34 digital piano, you can count on a high-quality instrument that doubles as a stylish piece of furniture. It simply "fits" into your space.
While the YDP-S34 boasts a modern, stylish look, it offers a traditional acoustic piano playing experience. Yamaha has well over a century of acoustic piano-making heritage and has tapped into this experience when designing and building digital pianos. From the moment you open the lid, sit down, and start playing, you'll be immersed in the sound of the flagship Yamaha CFX concert grand piano. The 88 Graded Hammer Standard keys replicate the touch of a grand piano, giving you an authentic acoustic piano experience.
The Stereophonic Optimizer—a new kind of headphone experience
When using headphones, the Stereophonic Optimizer lets players enjoy the dispersed sound heard when sitting in front of an acoustic piano. With the Stereophonic Optimizer, Voices sampled from acoustic pianos appear to come from the body of the instrument. This provides a comfortable, natural experience that removes the drawbacks of performing with headphones.
Acoustic Optimizer
The speakers attached to the body exhibit a phenomenon in which, if nothing is done, the volume of the sound will increase due to the resonant frequency of the body. Conversely, installing pipes with the same resonant frequency within the body suppresses this resonance. Acoustic optimizers utilize this phenomenon. This improvement of the sound is something that has only been possible thanks to Yamaha's thorough knowledge of the internal acoustic characteristics of musical instruments.
For comfortable practice at home Intelligent Acoustic Control (IAC)
At low volumes, bass and treble used to be difficult to hear; however, YDP-S34 is equipped with Intelligent Acoustic Control (IAC), which adjusts the sound automatically, allowing players to enjoy balanced sound at any volume level.
not rated

Call for Price
Read more