Microphones
Showing 1–40 of 300 results
Sold out!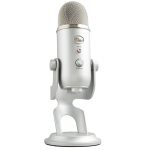 Blue Microphones Yeti Professional USB Microphone
The Yeti is one of the most advanced and versatile multi-pattern USB microphones available anywhere.
This versatile USB mic has 3 condenser capsules and 4 polar pattern settings. Combining 3 capsules and 4 different pattern settings, the Yeti is an ultimate tool for creating amazing recordings, directly to your computer. With exceptional sound and performance, the Yeti can capture anything with clarity & ease unheard of in a USB microphone.
The Yeti features Blue's innovative triple capsule array, allowing for recording in stereo or your choice of three unique patterns, including cardioid, omnidirectional, and bidirectional, giving you recording capabilities usually requiring multiple microphones.
The Yeti utilizes a high quality analog-to-digital converter to send incredible audio fidelity directly into your computer, a built-in headphone amplifier for zero-latency monitoring, and simple controls for headphone volume, pattern selection, instant mute, and microphone gain located directly on the microphone. There are no drivers to install - simply plug the Yeti into your PC or Mac, load up your favorite recording software, and record something amazing.
FEATURES
4 settings: bidirectional, omnidirectional, cardioid, stereo
Master volume
Mute button
Proprietary tri-capsule array
Mic gain control
Zero-latency headphone output with amplifier & volume control
USB mini jack
Standard threaded mic stand mount
not rated

Call for Price
Read more