Wireless Microphones
Showing 1–40 of 90 results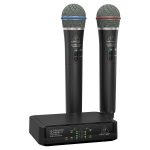 Behringer Ultralink ULM302MIC Dual Wireless System
The Easy Way to Go Wireless
The Behringer ULTRALINK ULM302MIC is an easy way to go wireless. You get two handheld microphone transmitters that are tailor-made for vocals. Add to that a high-performance dual-channel receiver, and you're good to go. Experience top-notch sound with minimal interference, a maximum operating range of 200 feet, and up to 24 hours of use on a single set of batteries. Enjoy license-free use worldwide. The ULTRALINK ULM302MIC includes convenient built-in volume buttons and a panic mute feature. Beyond that, automatic pairing and a combination of balanced and unbalanced connectors make it a breeze to set up and integrate into any rig. If you want a no-fuss handheld wireless system, the ULTRALINK ULM302MIC is a great value-priced option.
2.4GHz frequency band offers interference-free performance There are few things worse than picking up intrusive radio signals with your wireless system. That's why the ULTRALINK ULM302MIC operates in the 2.4GHz frequency band. This band is well out of the range of television stations and cell towers. The signal is also digitally encrypted, ensuring a clear signal without unwanted artifacts. On top of that, you can operate the ULTRALINK ULM302MIC anywhere in the world without special licensing requirements.
Designed for easy setup Setting up the Behringer ULTRALINK ULM302MIC is dead simple. Its handheld transmitters pair with its dual-channel receiver automatically. Keeping an eye on your signal presence and strength, as well as battery life, is as easy as glancing at the receiver's front-panel LEDs. The ULTRALINK ULM302MIC includes both balanced XLR and unbalanced TS connectors, allowing for easy integration with any PA or conference room system.
Convenient built-in controls Operating the ULTRALINK ULM302MIC is just as easy as setting it up. Built-in volume buttons allow you to adjust sound levels on-the-fly right from the stage. And if you experience any dreaded feedback, just engage the panic mute feature, take a deep breath, and relax.We appreciate the ULTRALINK ULM302MIC's convenient features and ease of operation.
Digital handheld wireless system with 2 transmitters and a dual-channel receiver
Operates in the 2.4GHz frequency band for interference-free performance
Handheld transmitters pair with the receiver automatically for easy setup
Front panel-LEDs for keeping an eye on your signal presence, signal strength, and battery life
Includes both balanced XLR and unbalanced TS connectors for easy system integration
Built-in volume buttons allow you to adjust sound levels on-the-fly right from the stage
Panic mute feature is a lifesaver in high-feedback zones
Maximum operating range of 200 feet and up to 24 hours of battery life

Call for Price
Read more