Drum Sticks
Showing 1–40 of 52 results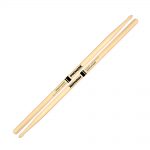 ProMark FBH535TW Forward Balance Hickory .535″ Drumsticks
Some of the Most Consistent Sticks You'll Ever Play With
Even the pickiest drummers at Sweetwater are impressed by Promark's Forward Balance 535 hickory drumsticks. It's astonishing how much care and attention they've put into these. They're made from quartersawn hickory, which is straighter and more rigid than plainsawn woods. Every pair of these sticks are weight-matched within 1.5 grams for incredible consistency. And we were amazed to learn that Promark actually measures the resonant frequency of these sticks and matches them within 6Hz of each other, or remarkably consistent sound. No matter what style of drums you play, you'll appreciate the control and consistency you have with the Promark Forward Balance 535 drumsticks.
Quartersawn hickory drumsticks, forward-weighted for greater stick sound

.535" diameter, 16" length

Quartersawn hickory is straighter and stronger than plainsawn wood

Each pair of sticks is weight-matched within 1.5 grams for amazingly consistent feel

Sticks are tone-matched within 6Hz for consistent sound too

Teardrop tip shape gives you warm tone, good articulation, and exceptional cymbal response
Expect more from your drumsticks - get the Promark Forward Balance 535 hickory sticks!

PKR

5,000
Add to cart