Line 6
Showing all 18 results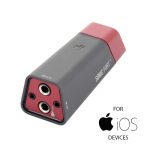 Line 6 Sonic Port for iOS
Real POD Tone for iOS!
Pick up a Line 6 Sonic Port iOS guitar interface system and turn your iPhone, iPad, or iPod touch into a complete mobile guitar rig. Whether you're jamming out to your favorite records, laying down your latest tune, or getting ready to rock the main stage, the Line 6 Sonic Port gives you the tools you need. Connected to your iOS device, your Sonic Port gives you access to real POD guitar effects in Line 6's Mobile POD app. And thanks to its flexible circuitry, you can comfortably connect the output of your Line 6 Sonic Port to headphones, monitors, or a guitar amplifier.
Step up to the Line 6 Sonic Port with the free Mobile POD app
True to its name, the Mobile POD app serves up a never-ending palette of tone, covering much of what has made POD a household name. Specifically, the Mobile POD app hooks you up with 32 legendary amps plus 16 cabinets to match, all on top of a collection of 16 classic stompbox effects. In total, you have a library of over 10,000 killer guitar tones waiting for you the moment you hook up your Line 6 Sonic Port digital iOS guitar interface.
Flexible I/O for solo practice, studio recording, and live performance
The Line 6 Sonic Port is easily one of the most powerful and portable iOS interfaces anywhere near its price point. One of the coolest things about the Sonic Port is its flexible I/O. On the input side, you have both a 1/4" guitar-level input, and a 1/8" stereo line input for keyboards and other gear. What's more, a single 1/4" output on the Sonic Port lets you connect to either a pair of stereo headphones, a set of studio monitors, or a guitar amp. That means you can come up with a cool guitar tone when you're hashing out song ideas, use that same tone when you're tracking your next tune, and then take it live onstage.
Line 6 Sonic Port iOS Guitar Interface Features:
The perfect way to turn your iOS device into a complete mobile guitar rig
Plug your guitar, bass, keyboard, or other gear into your iOS device and get strong, clear, and full-sounding digital audio
Compatible with most modern iOS music apps such as GarageBand
Supports recording at up to 24-bit/48kHz studio-quality resolution
Connect headphones, studio monitors, guitar pedals, or an amplifier
Get 10,000 killer POD tones with the free Line 6 Mobile POD app
Includes Lightning cable
Confirmed compatibility with iPod touch (4/5), iPhone (4/4S/5), iPad (1/2/3/4/mini)

PKR

18,500
Add to cart