Guitar USB Interface for PC/Mac
USB Guitar Interface Link Cable for PC/Mac Computer Recording
Easy Plug and Play Installation (No Driver is Required)

Audio Quality: 24-bit, 44.1/48kHz

1/4″ TS Guitar Input , 1/8″ TRS Headphone Output

With Built-in USB Connector Cable
Related products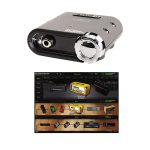 Line 6 POD Studio GX Compact Guitar Interface
A Killer Gear Modeling Plug-in Plus an Interface!
The POD Studio GX is a powerful software and hardware recording solution that's designed with guitarists in mind. POD Studio GX includes a single-channel audio interface that's purpose-designed for recording a guitar or bass — and capable of recording at better-than-CD quality. You also get the POD Farm plug-in, which offers up a dream collection of classic and modern amplifiers, stompboxes, studio effects, and even vocal preamplifiers, so you can achieve virtually any sound imaginable with Line 6's POD Studio GX!
Includes a USB audio interface for recording
POD Farm plug-in software with killer models and effects
Powerful and versatile 5-channel USB audio interface
At the heart of POD Studio GX is the interface, which features a front-panel instrument input for directly plugging in a guitar or bass or for plugging in a microphone with an adapter. There's also an 1/8" headphone output/line output available for conveniently monitoring while you're tracking.
POD Farm plug-in software with killer models and effects
In addition to the audio interface, you also get Line 6's enhanced POD Farm software, which can be used as an AU, RTAS, or VST plug-in within your favorite DAW. POD Farm software includes killer models of music history's most sought after pieces of gear — from amplifiers to stompboxes to studio effects and even vocal preamplifiers! There are 18 immortal guitar amps, 24 guitar cabinets, five bass amps, five bass cabinets, 29 stompboxes, and six microphone preamplifiers. You can set up your signal chain as easily as dragging and dropping and create everything from classic tones to mind-blowing original sounds. All of the gear offers up total tweakability — just like the original gear. The POD Studio GX also includes an FX Junkie model pack, which adds 35 more synths, filters, delays, and more to help you shape your sound!
Line 6 POD Studio GX Features:
Includes USB 1.1/2.0 recording interface
1/4-inch guitar input
1/8-inch stereo headphone/line out
USB bus-powered with LED status indicator
ASIO, WDM and Mac OS X Drivers
POD Farm AU/RTAS/VST Plug-in:
18 immortal guitar amps (modeled after Fender Deluxe Reverb, Marshall JCM-800, Vox AC-30 Top Boost, Mesa/Boogie Dual Rectifier, and more)
24 guitar cabinets
5 bass amplifiers
5 bass cabinets
29 essential stompbox and studio effects (modeled after EP-1 Tube Echoplex, Ibanez Tube Screamer, MXR Phase 90, LA-2A studio compressor, and more)
6 microphone preamplifiers (modeled after Neve 1073, Avalon Vt737, API 512c, and more)
FX Junkie Model Pack with 35 effects models

PKR

19,500
Add to cart