Keyboard/Piano Floor X Stand Adjustable
High Quality Metal Bracing Keyboard/Piano Stand with adjustable height.
Can easily be used with any keyboard/piano with up to 50 kg weight.
Related products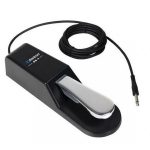 Alctron PS-1 Sustain Pedal
PS-1 Sustain Pedal is designed to work and feel just like the sustain pedal on an acoustic piano.This high-quality pedal features a polarity switch making it universally compatible with virtually any keyboard.The heavy-duty spring allows for better control and playing longevity. Specially designed rubber bottom grips the floor and stays put while you play. The PS-1 is a high-quality damper pedal with expressive half-pedal capabilities. Works with any electronic keyboard with 1/4" input jack.
Classic design with ploarity switch
Compatible with all electronic keyboards with 1/4" jack
200cm cable with 1/4" jack
Built around a heavy-duty mechanism
Chrome with removable scratch resistant protective cover, also doubles as a non-slip grip
Black Power Coat Finish

PKR

10,000
Add to cart