Aston Microphones
Showing all 6 results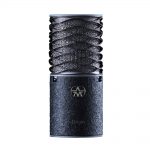 Aston Microphones Origin Cardioid Condenser
Workhorse Large-diaphragm Condenser
The Aston Microphones Origin is a unique-looking, high-performance large-diaphragm condenser mic with a 1-inch gold-evaporated capsule. The Origin's cardioid polar pattern, 10dB pad, and 80Hz highpass filter make this mic an all-around studio and stage workhorse. It delivers a lovely, open sound with shimmering harmonics and Aston engineers have found the Origin to be accurate and versatile, excelling in most applications — especially on vocals and acoustic guitars. The build quality is outstanding: Aston has hand-selected the capsule and paired it with high-end transformerless, balanced circuitry employing top-drawer components. The Origin delivers a true and transparent-sounding rendition of the source, capturing treble detail without a trace of harshness. If you're after quality on a budget, Aston Microphones' Origin is highly recommended.
Wave-form mesh head with built-in pop filter The Origin features Aston's signature wave-form mesh head which not only looks cool, but also provides rugged protection for the mic's internals. If subjected to a forceful ding, the shock-resistant wave-form grille allows the head of the mic to distort, then return to its normal position without damage. It also offers a measure of off-axis rejection, helping to diminish unwanted ambient sound. Built into the wave-form head is a mesh-knit pop filter that eliminates plosives in vocal performances. This single-piece mesh cage is made of stainless steel, so it's rustproof; you can even remove and wash it!
Unique chassis and end cap design
Did we mention how striking this mic looks? To achieve its hard-wearing, eye-catching finish, your Origin's chassis has been tumbled individually for up to four hours, with the engraving applied afterward. A custom-molded end cap with integrated XLR and built-in, interchangeable mic stand thread adapter is another unique aspect of the design. In light of the mic's superior onboard shock absorption, you can mount it directly to a mic stand, which also makes it easy to repair and maintain.
Large-diaphragm pressure-gradient condenser microphone with cardioid polar pattern
1-inch gold-evaporated capsule; protective wave-form mesh head with built-in pop filter
Innovative blend of discrete and integrated circuitry
Optimized circuit stage scheme from phantom power input circuit to capsule voltage bias
Unique nonlinear voltage/current source rectification
Shock-resistant, wave-form mesh head with built-in pop filter
Unique, individually tumbled chassis finish
Custom-molded end cap with integrated XLR and interchangeable mic stand thread adapter
Onboard 10dB pad and 80Hz highpass filter
48V phantom power required for operation

PKR

66,000
Add to cart