Mouth Organs
Showing 1–40 of 61 results
Sold out!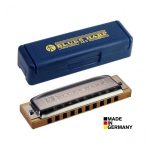 Made in Germany
Hohner 532 Blues Harp
A traditional blues harp that's specially made for 2nd-position note bending, which gives the blues its signature sound.
The Hohner 532 Blues Harp Harmonica helps you dig in deep and experience the raw power and grit of the blues. The Blues Harp is engineered for consistent volume and tone that's ideal for intense blues playing. The Hohner Blues Harp can hang with the toughest harmonica players on their most serious gigs. The Blues Harp is highly bendable and has a dirty, dark, hard rockin' sound. One of Hohner's classic models, the 532 Blues Harp is emphasizes the best qualities of blues harmonica playing. Hohner builds the Blues Harp with a wood comb and thin reeds, allowing for easier note bending. Musicians like Steven Tyler of Aerosmith and Lil' Ronnie Owens of the Grand Dukes have favored the Hohner Blues Harp for its power and bluesy tone.
Choose your desired key!
About MS-Series harmonicas:
The acronym 'MS' stands for Modular System, an integrated concept of Hohner's harmonica designs. MS-series harmonicas benefit from innovations that improve their playing characteristics and also significantly facilitate maintenance and handling. All MS-series parts (combs, reed plates, and covers) can be combined individually. Simple screw connections allow for easy assembly. This benefit offers players the possibility to adjust the instruments to their individual requirements. For example, some players prefer the body of one model and the cover plates of another, and so a "custom hybrid" is possible for the discerning player. Replacement reeds are available (see item: RP565 MS Replacement Reed Plates).
10-hole diatonic
Standard (Richter) tuning
Reeds: 20
Reedplates: Brass; 0.9 mm (replaceable)
Wood comb
Length: 10 cm
Great for 2nd-position note bending!
Hohner harmonicas feature:
Improved reed profiles to increase reed life by over 200%
Precision die punches to ensure reed plates with unparalleled air tightness
Improved tuning accuracy (through investment in innovative new tools)
Extremely stable stainless steel covers that won't tarnish and are easy to clean
Dynamic range and highest volume of most any commercially made harmonica
Super-fast response at all volume levels
Easily adjustability for overblows
not rated

Call for Price
Read more