Standard Full Size Acoustic Guitars (Available in Many Colors)
Standard Dreadnought Affordable Acoustic Guitar!
The most common standard size in acoustic guitars is dreadnought shape, these guitars are recommended for adults as they have a bigger body & dimensions. Dreadnought body with high quality internal bracing offers rich bright tones.
These guitars are also available in optional semi acoustic configurations! You can choose between various available preamps at our store & get them installed & ready to perform on stage or recordings.
Specifications:
Size: 41 Inches
Top: Linden/Spruce
Sides & Back: Linden/Rosewood
Tuning Pegs: Stainless Steel Die Cast Tuning Pegs
Truss Rod: Yes (Adjustable Action)
Neck: Linden/Spruce
Fingerboard: Rosewood
Bridge: Rosewood
Finish: High Glossy
Colors: Various
WhatsApp us at 03145111100 for Latest Available Guitar Pictures & Choose by Yourself to place an order!
You may also like…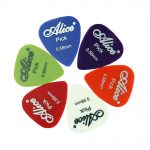 Alice Premium Celluloid Guitar Plectrums
Whether beginner or pro player you will find something to suit you. Alice AP Series celluloid guitar plectrums are some of the most popular styles of guitar pick. They're manufactured from the same high quality material and perform to the same level as leading brands. Celluloid picks are a good choice for all players from beginner to advanced and have a vintage feel, producing a warm tone. Available in Plain or Textured Finish Available Gauges (mm): 0.58 0.71 0.81 0.96 1.20 1.50 Price per Plectrum PKR. 50/-

PKR

100
Add to cart