Nux B3 Microphone XLR Wireless System
Turn your regular microphone into a high quality portable wireless mic system.
Wireless Transmission System
2.4 GHz plug-on system for dynamic microphones
Ready-to-use set of transmitter and receiver
2.4 GHz band suitable for worldwide license-free operation
32-Bit / 48 kHz high-resolution audio quality
6 Channels
Range: Up to 30 m
Latency <4 ms
Integrated Li-ion battery
Battery life: Approximately 5 hours
LED indicator for the state of charge
Dimensions (L x W x H): 107 x 25 x 26 mm
Weight: 0.125 kg
Includes USB charging cable and adapter from XLR to 3.5 mm mini jack
Note: Transmitter does not provide phantom power, recommended for Dynamic Microphones Only
Related products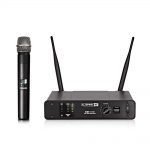 Line 6 XD-V55 Digital Wireless Handheld Microphone System
Exceptional Wireless Performance on Any Stage, Anywhere!
If you're ready to move up to digital wireless quality, the Line 6 XD-V55 handheld digital wireless system is the place to start! the XD-V55 handheld digital wireless system gives you the same clean, clear, and ultra-reliable performance as its big sibling, the XD-V75 system - in a more affordable, more compact setup that's unbelievably easy to use. Instantly switch among 12 channels on both the mic and the elegantly simple-to-operate receiver. Roam the stage knowing that you'll sound great, without dropouts, RF interference, or noise, with up to 300' of range. You owe it to yourself - and your audience - to get the absolute best performance out of your stage setup. You'll get it with the Line 6 XD-V55 handheld digital wireless system!
Full-range, compander-free digital wireless system with four microphone models and easy operation
Innovative design helps eliminate RF interference with your audio
Operates in 2.4GHz band, eliminating interference from TV broadcast or white space devices
12 channels are always available anywhere, anytime, license-free
Handheld microphone included
Optimize your vocal sound
The XD-V55 is outfitted with digital reproductions of four live vocal microphone models to optimize the sound of your performance. With the touch of a button on the XD-V55's transmitter, you can select a model to fit your voice, your venue, or the rest of your rig.
The forefront of digital wireless technology
The Line 6 XD-V55 represents the fourth generation of digital wireless systems from Line 6, making them the most mature digital systems in the industry. The full-range, compander-free operation means you'll deliver clean, vibrant vocals that never sound "squashed" or "dull". This incredible system gives you 12 "always available" channels, each of which is ready to use at a moment's notice. That's a far cry from conventional analog setups, which require you to dial in channels individually before you can use them. You'll also appreciate the XD-V55 system's rock-solid reception and outstanding 300' range.
Worldwide use, license free
The 12 available channels on the XD-V55 wireless system operate in the 2.4GHz band, free from interference from TV broadcast and white space devices. These channels are ready for use anywhere in the world, license free. You won't find this functionality on 
any
 other wireless system, and if you're planning an international tour this is your only alternative to having to source a wireless system in each country you stop in.

PKR

125,500
Add to cart