Electric Guitars Strings
Showing 1–40 of 62 results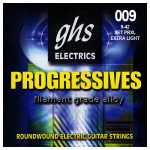 GHS PRXL Progressives Roundwound
GHS Progressives Roundwound Extra Light Strings
GHS has been manufacturing high-quality guitar strings since 1964. Professional musicians and amateur hobbyists who want great sound from their strings turn to GHS for a wide variety of tones. Whatever your tastes, from bright crunching rock to a mellow, bluesy sound, there's a set of GHS string that's right for you. The goal at GHS is to provide players around the world with strings that consistently exceed expectations. Each set set of these incredible strings is backed by decades of experience and GHS' unwavering commitment to quality. The magnetically active Alloy 52, combined with a well-studied core-to-cover ratio provides a uniquely brilliant tone. This filament grade alloy wrap will provide sustain, power and volume for any musical style.
Nitro-Pack singles for fresh strings every time
GHS's Nitro-Packs use a revolutionary packaging method to ensure each one of your guitar strings is brand-new and corrosion free when you open the pack. Each string is individually housed in a nitrogen-sealed packet that eliminates any oxygen from around the metal. This sterile environment protects the string from any contaminant and corrosive, and the tear-proof packets have a transparent side for help identifying each string before having to expose them to oxygen. All of this goes into making sure that when you put a set of GHS strings on your guitar, you're getting the freshest and most clear-sounding strings possible.
Custom gauge
.009, .011, .016, .024, .032, .042
Roundwound
Alloy 52 wrap
GHS Extra-Light Progressive electric guitar strings let you get the best from your guitar!

PKR

2,600
Add to cart