Alice A506 Stainless Steel Nickel Wound Super Light
Alice A506 Stainless Steel Nickel Wound Super Light
Alice A506 Electric Guitar string set.

Stainless Steel, Nickel Alloy Wound.

Super Light.

A good choice for all electric guitar lovers.

Alice A506 Electric Guitar String Set is featured by its distinctive bright tone and excellent intonation.
Related products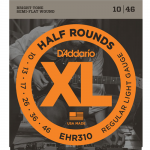 D'Addario EHR310 Half Rounds
EHR310's combine the universal playability of D'Addario's most popular electric gauge (10-46) with the benefits of an exclusive "Half Round" manufacturing process. D'Addario Half Rounds Electric Guitar Strings are round wound with stainless steel and then precision ground leaving the outer surface smooth and "semi flat." The result is a string with the tone and tension characteristics of round wound strings, with a smoother feel, similar to flat wound strings.
D'Addario's most popular string gauge with an exclusive semi-flat surface
Centerless ground stainless steel delivers round wound tension with a flatwound feel
Environmentally friendly, corrosion resistant packaging for strings that are always fresh
Made in the U.S.A. for the highest quality and performance
String Gauges: Plain Steel .010, .013, .017, Stainless Steel .026, .036, .046

PKR

4,500
Add to cart