Yamaha PSR-E273 Digital Keyboard
An Excellent Arranger for Beginners
When Yamaha created the PSR-E273, they set out to create the best beginner keyboard possible. This portable arranger is packed to the gills with effects, instrument voices, and much more. It has 61 full-size keys, 32-note polyphony, 401 impressive instrument voices, and 143 accompaniment styles. The PSR-E273 also includes the Yamaha Education Suite (Y.E.S.), which helps you learn how to play piano with fun, interactive exercises. As your playing skills grow, you can play along to 112 onboard songs. For ease of use, the PSR-E273 includes a Portable Grand Piano button that takes you back to the piano voice for practicing or performing. Yamaha's portable arranger keyboards are favored by musicians  because of their impressive functionality and compact construction. So if you've always wanted to learn how to play the piano, you can't go wrong with the Yamaha PSR-E273.
Adding awesome upgrades
The Yamaha PSR-E273 is the successor to the PSR-E263 and has a host of built-in extras. Chief among them are the 13 extra accompaniment styles, 10 additional preset songs, and an added instrument voice. It also has a phrase recorder for you to record and play back previous performances and ideas. The arranger also has onboard effects, such as reverb and chorus, that help you fill out the sound. And thanks to Duo Mode, you can even practice with a friend or teacher! Once you hit the Duo Mode button, the keys will be split into two separate keyboards with the same octave range. All in all, the PSR-E273 builds on the success of its predecessors and is a rock-solid keyboard to learn with. If you're a beginner, choose the Yamaha PSR-E273, you won't regret it.
61 full-sized synth-action keys facilitate a transition to other arrangers as players advance
32-note polyphony encourages more complex and imaginative musical expression
Portable Grand button gives quick access to the beautiful Yamaha Portable Grand Piano voice
Built-in effects foster creativity
Yamaha Education Suite allows you to practice preset songs or your own tunes through the aux in
143 accompaniment styles enable you to play along with a backing band
Duo mode splits the keyboard into 2 halves with the same octave range for partner practice
Compact and lightweight design makes it incredibly portable
You may also like…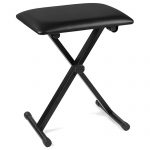 Piano/Keyboard Foldable Bench
Foldable 3-levels Piano Bench is worth accompanying your piano or keyboard. It has 3 levels of height adjustment, suitable for various heights. And it doesn't need to be installed, it can be opened and used, which is very convenient. Foam padded cushion seat is a must for long piano playing session for less strain on your lower body.
Features:
1. Foldable design for easy handling 2. 3-level height adjustment for comfortable position 3. Sponge cushion seat 4. The maximum load bearing is 176lbs / 80kg 5. Can be used with electronic organ, electric piano and keyboard
Specifications:
1. Color: Black 2. Material: Iron, Sponge, Pu 3. Installed Dimensions : (15.7 x 12 x 20.1)" / (40 x 30.5x 51)cm(L x W x H) 4. Package Size : (25.4 x 12.4 x 4.7)" / (64.5 x 31.5 x 12)cm(L x W x H) 5. Sponge Thickness: 2.4"/ 6cm 6. Net Weight: 5.6lb / 2.55kg 7. Can Be Used With Electronic Organ, Electric Piano And Keyboard

PKR

7,500
Add to cart