Student Acoustic Guitar (Available in Many Colors)
Acoustic guitar designed for beginners, it is easy to use and play. The 38-inch guitar is very suitable for use in classes, recitals, band rehearsals, stage performances or practice at home. Great for beginners & children learning to play guitar.
Musical Instruments Class Guitar (Recommended by Music Teachers/Instructors)
Smart neck profile for easy handling by young learners
Lightweight body makes guitar comfortable for longer learning sessions & practice
Made with laminated basswood for rich tone
Available in Multi Color Options: Natural, Black, 

Red

, 

Blue

, 

Sunburst

, 

Indigo

, White, 

Pink

 & 

Orange

Soft plectrums included
WhatsApp us at 03145111100 for Latest Available Guitar Pictures & Choose by Yourself to place an order!
You may also like…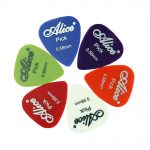 Alice Premium Celluloid Guitar Plectrums
Whether beginner or pro player you will find something to suit you. Alice AP Series celluloid guitar plectrums are some of the most popular styles of guitar pick. They're manufactured from the same high quality material and perform to the same level as leading brands. Celluloid picks are a good choice for all players from beginner to advanced and have a vintage feel, producing a warm tone. Available in Plain or Textured Finish Available Gauges (mm): 0.58 0.71 0.81 0.96 1.20 1.50 Price per Plectrum PKR. 50/-

PKR

100
Add to cart