Furman M-10Lx E Power Conditioner with Lights
Power Conditioner and Rack light 19″ 1U
Power filter and power distribution with 10 A maximum output current (2300 Watt)
Suitable for live applications and recording
AC Noise filter
Circuit breaker
Two retractable LED light fixtures with dimmer control
10x rear panel outlets and 1x front panel convenience outlet
Protection OK indicator
Overvoltage protection
Main power switch at front panel
19″ / 1U
19 cm Depth
Weight 2.3 Kg
Related products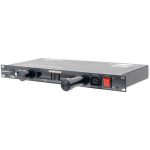 Samson PowerBrite PB10 Pro
The Samson POWERBRITE PB10 PRO Power Rackmount Power Conditioner and distribution unit. Protect your gear and organize your power distribution.
The Samson POWERBRITE PB10 PRO is a 19 inch rackmount power conditioner that makes the perfect addition to any rack case. On its front panel it features dual digital voltage multi meters to display input and output voltage levels, and two led lamps with dimmer control for illuminating your rack. With surge protection and peak voltage clamping the PB 10 Pro is ideal for clean uninterrupted power. The PowerBrite PB 10 Pro also has a gooseneck lamp included for lighting the rear of your rack case.
Protect your gear and organise your power distribution
19 inch rackmount power conditioner
Dual digital voltage displays
Front mounted dimmable led lamps
Rear mounted led gooseneck lamp
8 rear panel iec outlets
1 front panel iec outlet
Surge protection
Peak voltage spike clamping
Rfi / emi filtering
Dedicated switch for powering rear iec outlets
Front panel resettable 10 amp circuit breaker protects all connected gear
Four iec power cables included

PKR

47,000
Out of Stock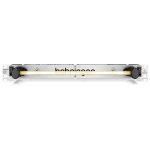 Behringer Powerlight PL2000
Professional Rack Light and Power Distributor
Need to cast your rack gear in a whole new light? Make room for the PL2000, a brilliant way to illuminate your gear.
Power AND Light!
This incredibly handy rack light not only makes your gear visible on the darkest of stages, but also has 8 standard IEC connector outlets to bring power to your entire rack! A resettable rear-panel circuit breaker protects all connected equipment up to an 8-Ampere load. (PLEASE NOTE: When used in a rack case with removable covers, this unit requires 6.6 centimeters (2.6 inches) of clearance between the front panel mounting surface ("rack rails") and the front cover of your rack case. Before purchasing the PL2000, please be sure to check for the necessary clearance to avoid compatibility issues with your rack.)
Value
The PL2000 is the rugged, road-worthy way to make sure your rack gear is never left in the dark.
Main Features:
Powerful rotary light tube
8 standard IEC connector outlets
Dedicated On/Off switches for power outlets
Resettable rear-panel circuit breaker
High-quality components
Exceptionally rugged construction ensure long life
Conceived and designed by BEHRINGER Germany

PKR

34,500
Add to cart
Furman PL-8C Power Conditioner with Lights
Protect your investment!
The Furman PL-8C Power Conditioner protects your valuable electronic equipment from damaging voltage spikes and provides clean, noise-free AC power to your gear. The PL-8C utilizes Furman's revolutionary Series Mode Protection (SMP) circuit and Linear Filter Technology (LiFT) comprise what might be the world's most advanced and comprehensive transient voltage surge suppressor. In the event of unsafe voltage levels, EVS kicks in and safely powers down the PL-8C and your gear to prevent damage. You've spent thousands on your gear, and the PL-8C is a very affordable way to protect your investment.
Maximum Output Current: 15 amps
Line Cord: Captive 3/14 AWG, 10 ft. black cord with NEMA 15 plug
Pull-out Lights: Two multi-LED, dimmable lamps
BNC Socket w/Switch: Rear rack lamp, 12VAC 500MA maxx (lamp not included)
Operating Voltage: 90 to 139 VAC
Spike Protection Mode: Line to neutral, zero ground leakage
Spike Clamping Voltage: 188 VAC peak @ 3,000 Amps
Response Time: 1 nanosecond
8Maximum Surge Current: 6,500 Amps
Noise Attenuation: 10 dB @ 10 kHz, 40 dB @ 100 kHz, 50 dB @ 500 kHz
Dimensions: 19" W x 10.5" D x 1.75" H
Weight: 12 lbs.
Power Consumption: 12 watts
Essential insurance for your electronic gear!
Furman has improved upon its already trusted line with the PL-8C Power Conditioner. With 8 back-panel outlets and 1 front outlet and a 15-amp rating with a built-in circuit breaker, you can connect a rack full of gear and rest assured that no damaging voltage spikes or dirty power will reach your equipment.
Series Mode Protection means no down time!
Furman's PL-8C Power Conditioner features maintenance-free SMP surge suppression that virtually eliminates service calls. Traditional surge suppression circuits "sacrifice" themselves when exposed to multiple transient voltage spikes, requiring replacement or repair of your surge suppressor. Not so with SMP. With Furman's SMP, damaging transient voltages are safely absorbed, clamped and dissipated. In cases of extreme transient voltages the PL-8C safely shuts itself, and everything connected to it, down. No sacrificed parts, no service calls, no down time. The PL-8C's unparalleled clamping voltage doesn't come at the expense of safety! While other designs offer clamping voltages that are well above 300VAC peak, (far beyond accepted professional standards), Furman's SMP clamps at 188VAC peak, 133 VAC RMS even when tested with multiple 6000VAC, 3000 amp surges! This unprecedented level of protection is only available with Furman's SMP technology. Additionally, the PL-8C contains Furman's trusted Extreme Voltage Shutdown to protect against accidental connections to 208 or 240VAC, by shutting off the incoming power until the over voltage condition is corrected.
Linear Filtering Technology eliminates AC line noise
The PL-8C employs Furman's real-world tested Linear Filtering Technology - LiFT - That takes a realistic approach to line noise and "dirty" AC power. LiFT ensures optimal performance through linear filtering and no leakage to ground. Traditional AC conditioners could actually harm audio and video performance more than they help, often adding more than 10 dB of noise to the incoming AC line! The PL-8C also guarantees zero leakage of AC power to ground.

PKR

121,000
Out of Stock