Acoustic Guitar Strings
Showing 1–40 of 60 results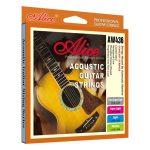 Alice AW436P Coated Concert Guitar Strings
Material: imported coated steel wire string, imported hex steel core, forest bronze wound string, rust-proof coating

The package comes with 6 strings, perfect for regular acoustic guitars in size 36"-42".

E and B strings are made of nickel plated steel and the other strings are protected with a proprietary anti-rust coating.

Each string is attached to a perforated ball end for convenient replacement.
not rated

PKR

1,000
Add to cart