Sabian Safe & Sound Cymbal Cleaner
The next best thing to getting a new cymbal.
Sabian's Safe & Sound Cymbal Cleaner is specially formulated to effectively clean your cymbals while protecting their performance and longevity. This organic cleaner is scent-free, acid-free, solvent-free and biodegradable. Besides being good for the environment this is great news for your cymbal. This is the cleaner for those cymbals that you really want to have around for a long time.
Related products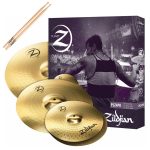 Zildjian Planet Z Cymbals Pack
Welcome to the Zildjian Family!
For drummers looking to make their entrance to the Zildjian family, Planet Z is the place to start the journey. Crafted in the USA from an exclusive nickel-silver alloy, Planet Z is a sonically superior cymbal in its price category and is truly worthy of bearing the Zildjian name. No matter what style you play, Planet Z is an easy and affordable way to complete your sound. This set includes a pair of 14" hi-hats, a 16" crash, and a 20" ride — plus a free pair of Zildjian 5A wood tip hickory drumsticks!
US-made quality and sound design Zildjian Planet Z cymbals carry on the Zildjian tradition of intelligent metallurgy that produces superior tonality within all Zildjian cymbal price ranges. The nickel-silver alloy used to make Planet Z cymbals is a proprietary formula that will ring true with customers who are ready to join the Zildjian family. The 20" Planet Z ride provides clean stick definition with focused foundational tones, and the 16" crash responds with a pronounced punch that is lively, versatile, and will cut through to accent the beat when you need it most. The 14" Planet Z hi-hats give back a crisp report that won't get lost in the mix.
Great hickory drumsticks to fit your playing style! The Zildjian 5A Wood Tip Hickory drumsticks are quality sticks, great for a variety of styles and genres, with a natural finish and wood tips. These sticks include acorn-shaped wood tips for full tone. Zildjian 5A hickory drumsticks are crafted to the same exacting standards as the company's legendary cymbals and manufactured for consistency (they're guaranteed 100% straight) — so you know you're getting top performance every time you pick up a pair.
14" hi-hats with crisp tonality and great definition
16" crash punches through with a full, explosive report to accent the beat
20" ride has focused underlying tones and speaks up with clean stick definition
Pair of Zildjian 5A wood tip hickory drumsticks included as a bonus

PKR

45,000
OUT OF STOCK