Marshall CODE 25
Hundreds of Classic Marshall Amp/Cab Combinations
The Marshall Code 25 packs decades of classic Marshall sounds into a travel-friendly combo amp. Browse over 100 presets for instant inspiration at home or on the road, or mix and match digitally modeled Marshall preamps, power amps, and speaker cab emulations to customize convincing tones for the stage and studio. With 25 watts and a full-voiced 10″ speaker, the Marshall Code 25 is right at home onstage for small club gigs. And for some quick stress relief at the office, a silent headphone amp delivers signature Marshall crunch right to your ears without disturbing coworkers.
25 watts with a 10″ speaker – good for small gigs and practices
14 preamp models include classics like the JCM800, Bluesbreaker Plexi, and Silver Jubilee
4 power amp models for vintage and modern British and American tones
8 different speaker emulations for tight a 1 x 12″ to a beefy 4 x 12″
24 digital FX to inspire new amp tones
Auxiliary input for jamming along with music
Headphone output for silent practice and direct recording
Re-creates decades of classic Marshall preamp/power amp/speaker cab combinations
Mix and match 14 preamps, 4 power amps, and 8 speaker cab emulations to craft the perfect tone for any tune: from sparkling clean to vintage Marshall crunch to high-gain metal mayhem. Then add any of 24 digital effects like creamy reverb, shimmery chorus, or classic overdrive pedal models and save for instant recall at practice or onstage.
Can be controlled remotely via USB or Bluetooth
The innovative folks at Marshall found a way to let you customize any tone setting in the Code 25 without getting off the couch. Adjustments can be made via USB using the included Marshall Gateway software, or over Bluetooth with the handy mobile app. With this feature you can let the sound engineer change your amp tones at will from offstage, or you can dial in the perfect recorded tone when your Code 25 is out in the live room.
Aux input with headphone out for silent jamming and recording
More than a stage amp, the Marshall Code 25 doubles as a useful practice and recording tool at home. An auxiliary input lets you plug in your phone or MP3 player and jam along, which really comes in handy for learning cover songs and practicing solos. A headphone out doubles as both an option for silent practice and as a natural-sounding output to run straight into your recording platform.
Out of Stock
You may also like…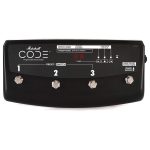 Marshall PEDL-91009 4-way Footswitch for CODE Amplifiers
Cycle Through Banks and Recall Presets on the Fly
Get the most out of your Marshall Code combo or stack with this official footswitch. The PEDL-91009's first three switches let you instantly recall your favorite presets - something that fans of the TSL's clean/crunch/lead footswitch layout will take to instantly. The fourth switch lets you discreetly cycle through banks to load even more presets. An LED readout helps you keep track of what preset bank you're on even in dim lighting conditions. If you own a Marshall Code-series amp, you'll want to take advantage of the additional features provided by the PEDL-91009 footswitch.
Marshall Code Series 4-way Footswitch Features:
Optional upgrade for your Marshall code-series amp
Lets you recall 3 of your favorite presets - great for clean/crunch/lead tones
Cycles through sound banks discreetly
LED readout lets you know what bank you're on
Rugged switches and durable housing are designed to stand up to live abuse
Black finish to match your Marshall Code series amp
Compatible with Code 25, 50, and 100 amps

PKR

27,000
Add to cart