Amplifiers
Showing 1–40 of 119 results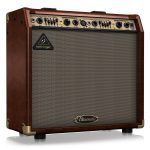 Behringer Ultracoustic ACX450
This Little Amp is a Big Value
Amplify your acoustic and control feedback at the same time with the Behringer Ultracoustic ACX450 stereo acoustic guitar amplifier. Sporting 45 watts of power and two channels to cover all your input needs, the ACX450 is a versatile amp at a great value. With complete connectivity for instruments, microphones, and line-level sources, the ACX450 is a do-it-all amp. If you need an acoustic amp with a lot of features that won't break the bank, check out the Behringer Ultracoustic ACX450.
Two channels
FBQ feedback indicators
Built-in FX
Two Channels:
Behringer's ACX450 is a true dual-channel stereo amplifier. Channel One is for your acoustic guitar, while Channel Two gives you inputs for either a microphone or a line-level source. Both channels feature a 5-band graphic EQ for tone shaping. On top of that, each EQ features FBQ feedback indication to help you terminate feedback quickly.
FBQ Feedback Indicators:
Engage the FBQ control on the ACX450, and LED's on the graphic EQ come to life. The LED's fluctuate in intensity, in response to the input signal. If feedback occurs, just pull down the fader that is glowing brightest - you'll wrangle in that feedback in a flash.
Built-in FX:
Behringer's ACX450 gives you two separate digital FX processors, one for each channel. Each has 16 presets including reverb, chorus, delay, and more. You can even tailor the chosen effect to your style with the Parameter dial.
Feature-packed acoustic amp at a great price
Two channel design supports virtually any input source
FBQ feedback indicators help fight feedback fast
Dual effects processors help you polish your sound
Dual 5-band graphic EQs for tone shaping

PKR

65,000
Add to cart