Description
A Quality Wireless System from Behringer
Excellent sound, ease-of-use, and steadfast reliability — that just about sums up the Behringer ULTRALINK ULM300MIC. Consisting of a ULM300M handheld microphone transmitter and ULM300RS single-channel receiver, this wireless system is a great way to take the stage without the hassle and restriction of cables. Experience clear, interference-free operation in the license-free 2.4GHz frequency band. Enjoy convenient automatic pairing and easy-to-read front-panel LEDs. And with 24 hours of real-world performance time on a single battery, the ULM300MIC is a wireless system that you can count on. The ULTRALINK ULM300MIC includes a 200-foot operating range, handy integrated volume buttons on the mic, and a panic mute function.
State-of-the-art wireless technology for interference-free operation
The Behringer ULTRALINK ULM300MIC operates in the license-free 2.4GHz range, so you don't have to worry about interference from TV stations and cell towers. Beyond that, its digitally encrypted signal maintains all of its integrity from the transmitter to the receiver, free from unwanted artifacts and noises. And you can expect this level of performance within a 200-foot operating range, so you'll have plenty of room to work the stage.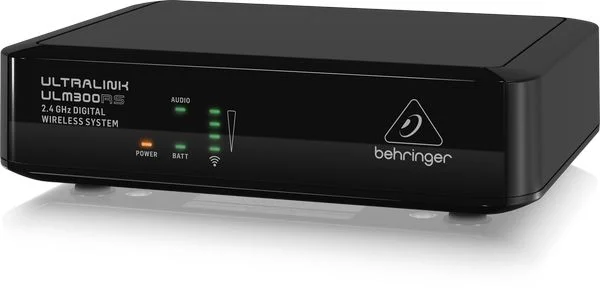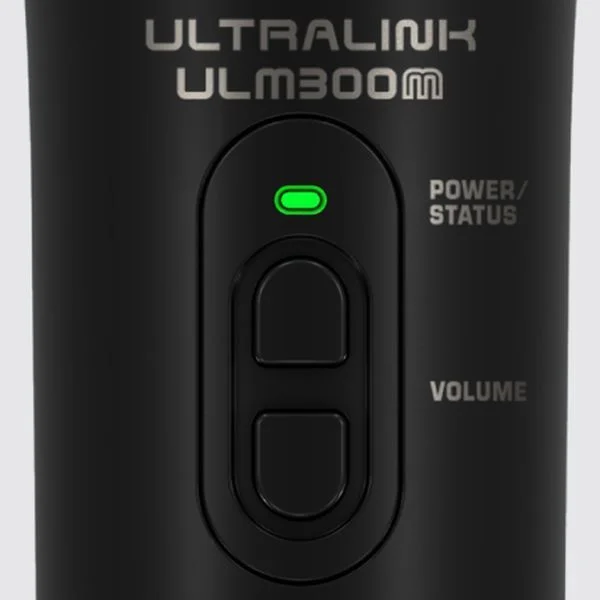 Convenient features provide excellent ease-of-use
Setting up the ULTRALINK ULM300MIC is a breeze, thanks to its automatic pairing feature. At Sweetwater, we appreciate the receiver's easy-to-read front-panel LEDs — they provide at-a-glance information about signal presence and strength. Indicators on the transmitter also warn you when it's time to change your batteries, and integrated volume buttons on the side of the microphone transmitter make adjusting levels from the stage easy. There's also a handy panic mute function in case you run into trouble.
Behringer ULTRALINK ULM300MIC Features:
Digital wireless system with handheld microphone transmitter and single-channel receiver
ULM300M handheld transmitter features a mic capsule tailored to vocal applications
Operates in the license-free 2.4GHz frequency band for clear, interference-free operation
Digitally encrypted signal maintains all of its integrity from transmitter to receiver
200-foot operating range supplies plenty of room to work the stage
Automatic pairing makes setup a breeze
Easy-to-read front-panel LEDs on the receiver provide at-a-glance information about signal presence and strength
Indicators on the transmitter warn you when it's time to change your batteries
Integrated volume buttons on the microphone transmitter make adjusting levels from the stage easy
Handy panic mute function in case you run into trouble
24 hours of real-world performance time on a single battery