Zoom APH-1n H1n Accessory Pack
Accessory Pack for your Zoom H1n
Get the most out of your Zoom H1n handheld recorder — the longest life, the best recordings, and the utmost convenience — with the Zoom APH-1n accessory pack from Sweetwater. Included are a desk-sized tripod stand, a mic clip adapter to mount your H1n in a standard stage-style microphone clip, a foam windscreen to cut plosives and wind noise, a USB charging cable and wall adapter, and a zippered soft case with wrist strap to keep your H1n looking and performing like new.
Zoom H1n Accessory Package Features:
Enjoy longer life, better recordings, and greater convenience from you H1n handheld recorder
Low-profile tripod stand is great for desks and remote use
Mic clip adapter mounts your H1n in a stage-style microphone clip
Foam filter reduces plosives and wind noise
Zippered soft case keeps your H1n looking and sounding like new
USB charger cable and wall adapter also included
Zoom part #: APH-1n
Related products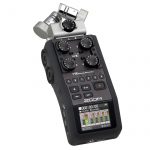 Zoom H6 Handy Recorder
Magnificently Modular!
Zoom's H6 All Black Handy Recorder portable recording system gives you everything you need to capture quality audio anywhere. Four XLR/TRS combo inputs complete with onboard microphone preamps provide a solid basis for hooking up studio mics or taking feeds from line-level equipment. On top of that, the H6 features an XY mic module, which you can swap out with additional aftermarket input modules. Add to that its impressive battery life and professional 24-bit/96kHz recording quality, and it's no wonder the Zoom H6 All Black Handy Recorder is making waves!
A versatile 6-in/2-out mobile recording system
4 XLR/TRS combination inputs with microphone preamps and phantom power (+12/+24/+48V) accommodate most analog connections
Modular input connection lets you attach onboard microphones and additional input jacks
Gain knobs for each input make setting levels fast and easy
Shockmounted XYH-6 XY stereo microphone module included
Captures audio at up to 24-bit/96kHz professional-grade resolution
Doubles as a handy USB recording interface with your Mac, Windows PC, or iPad (via Apple Camera Connection Kit)
Large LCD display makes navigation and setup extremely easy
Built-in processing includes highpass filtering, compression, limiting, and M-S stereo width decoding
Loop playback, variable playback speed (from 50% to 150%), and variable pitch per track make this an excellent practice tool
Chromatic tuner and metronome built in for added convenience
Records onto SD and SDHC storage media with up to 128GB capacity
Record for up to 20 hours on just 4 AA batteries
Includes operation manual, 4 AA batteries, and Cubase LE software
Optional shotgun mic, input expansion module, and hot shoe mount accessory also available

PKR

110,000
Add to cart