Dunlop Formula 65 Ultra Glide String Conditioner
Shields strings against tarnish and corrosion, extending their playing life.
Related products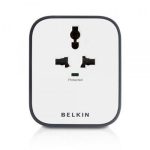 Belkin Essential Series Surge Protector
The Belkin Essential Surge Protector is perfect for Home Appliances or professional workstations. Voltage fluctuations, surges, and spikes can damage your home appliances, computer and peripherals and degrade overall performance. Belkin's Essential Surge Protector safeguards your valuable devices and other hard-to-replace equipment.
70 Joules of Surge Protection
Maximum Spike Current: 4,500 Amps
Wall-Mountable for a protected outlet without extra cords
Surge Protection Indicator lets you know your equipment is protected
Metal Oxide Varistors (MOVs) absorb excess electricity for increased protection
Damage-Resistant Housing protects circuits from fire, impact, or rust, and prevents dents and scratches

PKR

950
Out of Stock