You may also like…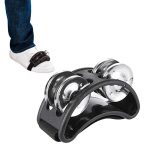 Foot Tambourine
Elliptical Drum Companion Accessory Hand Foot Jingle Tambourine Percussion Instruments Features:  1. Can be worn on hand or foot 2. Compact and high-impact ABS plastic body. 3. Durable elastic nylon strap fits comfortably over foot. 4. Shaking your foot, then bright and melodious plink comes out. 5. For acoustic sets and jam sessions. Specifications: Material: plastic+ aluminum alloy Color: Black Product size: 100 x 80 x 40mm/3.94 x 3.15 x 1.57" Net weight: 59g Gross weight: 60g

PKR

2,500
Add to cart
Carrying Bag for Cajon Drums
High quality Oxford Cloth cajon drum bag with all four sides foam padded for protection. Bottom feet pads installed. Back pack style double straps & top handle.

PKR

5,500
Add to cart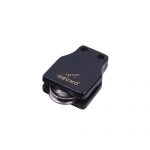 Gecko Cajon Jingle Castanet
Made of high-quality Thailand rubber timber.

Castanets with fastener, can be fixed onto the box drum.

Metal bells create bright and silvery sound.
Package List:
1 * Jingle Castanet

PKR

2,750
Add to cart