Description
Huge Focusrite Sound in a Small Package
The second-generation Focusrite Scarlett 6i6 USB audio interface gives you a ton of flexibility for a portable interface. Two vibrant Focusrite mic/instrument preamps are right on the front panel where you need them, while the back panel hosts two additional line inputs and four line outputs. With MIDI I/O and two channels of S/PDIF I/O, the Scarlett 6i6 is a perfect foundation for home or project studios that may need to expand in the future. And with its rugged metal unibody design, the Focusrite Scarlett 6i6 is perfect for recording on the go. Plug in, fire up the bundled software, and you're ready to rock.
Optimized second-generation technology
The 2nd-generation Focusrite Scarlett 6i6's exterior has undergone a sleek makeover. Under the hood, though, it's been tweaked and upgraded to deliver better sonics, lower latency, and enhanced ease of use. With sample rates up to 192kHz, you've got studio-grade sound you can take anywhere. And Focusrite has evened out the gain structure of the natural-sounding Scarlett mic preamps, letting you set levels more accurately. The instrument inputs have also been re-engineered to handle the hottest active pickups. Lastly, Focusrite has wired analog protection circuitry across the Scarlett 6i6's inputs and outputs, safeguarding your interface from damaging power surges.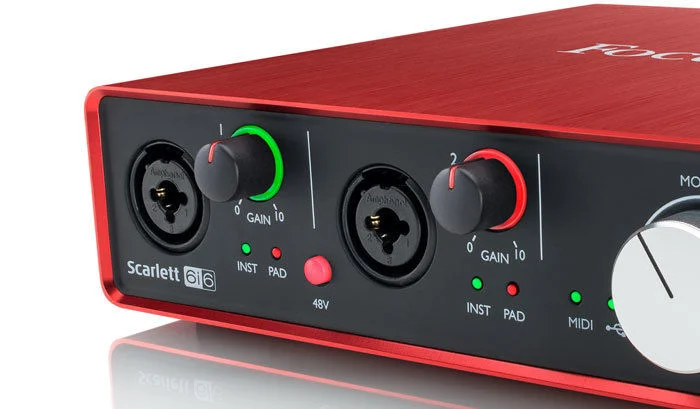 Super-low latency for better performances
You know you perform better when you've got a great-sounding monitor mix with everything you need to hear to be inspired — for example, reverb and delay on a guitar solo. The Scarlett 6i6's super-low latency lets you monitor with native plug-in effects in real time, so you can hear your parts as you envision them and record better performances. At Sweetwater, we know you can't put a price on that.
Smart I/O configuration for small-format recording
The Scarlett 6i6 is a smart interface for small-format recording tasks. There are many compact interfaces out there, but few combine XLR inputs for your mics, hi-Z inputs for instruments, line inputs, and even S/PDIF digital I/O. At Sweetwater, we know that flexible connectivity is crucial even when you're recording one track at a time, and that makes the Scarlett 6i6 a smart solution.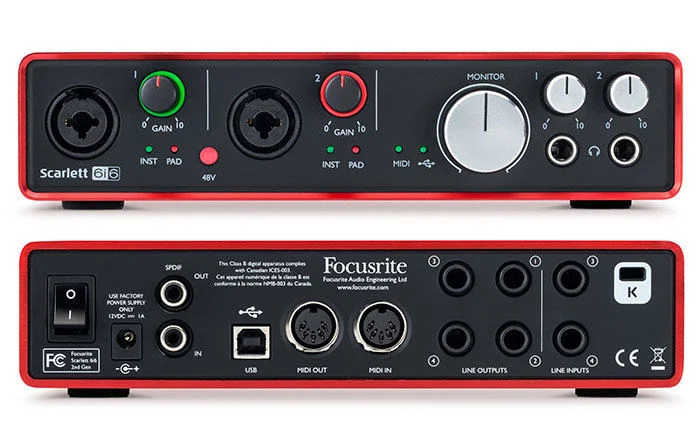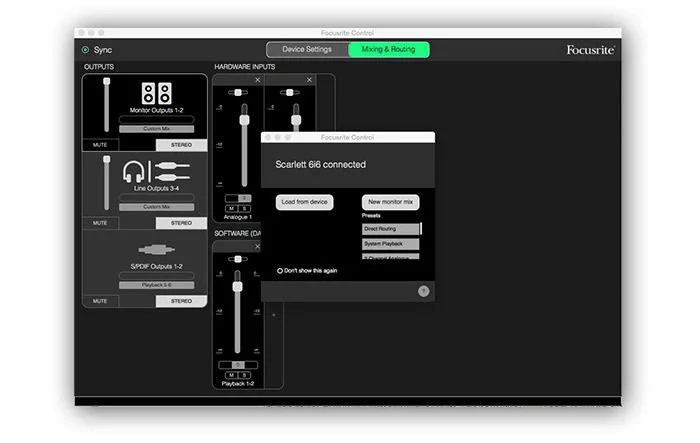 Powerful signal management
To keep all of those channels under control, Focusrite included their acclaimed Focusrite Control software for ultimate versatility. Create up to six separate mono mixes or three stereo mixes, each routable to any of the Scarlett 6i6's outputs. Save your mixes for instant recall later on. Reroute your signal path without having to replug your whole studio. The Scarlett 6i6 was built with flexibility in mind.
Exclusive software bundle gets you up and running fast
The Focusrite Scarlett 6i6 ships with a killer software bundle headlined by the exclusive Pro Tools | First Focusrite Creative Pack, which features a 16-track version of the DAW with 12 additional plug-ins, including Eleven Lite guitar amp emulation. You also get Ableton Live Lite, Softube's Time and Tone Bundle, the Focusrite Red Plug-In Suite, 2GB of Loopmasters samples, and more. Focusrite has included everything you need to get up and running fast:
Red 2 and Red 3 Plug-in Suite
Softube Time and Tone Pack
Exclusive Pro Tools | First Focusrite Creative Pack
Ableton Live Lite DAW software
Loopmasters sounds and samples (2GB)
Novation Bass Station VST and AU plug-in synth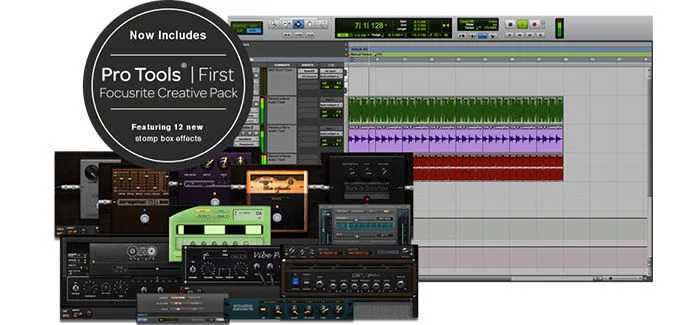 Focusrite Scarlett 6i6 Features:
Optimized second-generation technology
2 great-sounding Scarlett mic preamps with generous even gain
2 reengineered instrument inputs accommodate the hottest pickups
Smart I/O configuration for small-format recording
2 front-panel mic/instrument combo jacks; 2 rear-panel line inputs
Class-leading converters, sample rates up to 24-bit/192kHz
Headphone output with volume control
Vanishingly low latency lets you monitor with plug-ins, no DSP required
4 balanced 1/4″ outputs; S/PDIF I/O
MIDI I/O for sending/receiving MIDI notes to/from a keyboard controller
Compact, roadworthy chassis goes where you go
USB to host for connection to your computer
Exclusive software bundle gets you up and running fast