Description
Focusrite's Flagship Scarlett
The second-generation Focusrite Scarlett 18i20 provides a ton of firepower in an affordable package. Two vibrant Focusrite mic/instrument preamps are right on the front panel where you need them, while the back panel hosts a slew of extra I/O — up to 18-in/20-out simultaneously! With six additional XLR inputs around back, plus eight channels of ADAT input and 2-channel S/PDIF I/O, the Scarlett 18i20 is a perfect foundation for home or project studios that may need to expand in the future. Plug in, fire up the bundled software, and you're ready to rock.
Optimized second-generation technology
The 2nd-generation Focusrite Scarlett 18i20's exterior has undergone a sleek makeover. Under the hood, though, it's been tweaked and upgraded to deliver better sonics, lower latency, and enhanced ease of use. With sample rates up to 192kHz, you've got studio-grade sound for your projects. And Focusrite has evened out the gain structure of the natural-sounding Scarlett mic preamps, letting you set levels more accurately. The instrument inputs have also been re-engineered to handle the hottest active pickups. Lastly, Focusrite has wired analog protection circuitry across the Scarlett 18i20's inputs and outputs, safeguarding your interface from damaging power surges.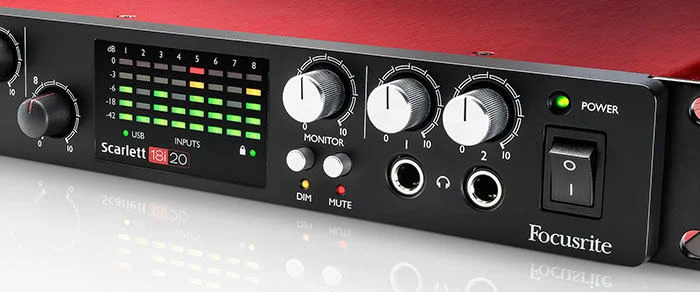 Super-low latency for better performances
You know you perform better when you've got a great-sounding monitor mix with everything you need to hear to be inspired — for example, reverb and delay on a guitar solo. The Scarlett 18i20's super-low latency lets you monitor with native plug-in effects in real time, so you can hear your parts as you envision them and record better performances. At Sweetwater, we know you can't put a price on that.
Award-winning Focusrite preamps capture great audio
The Focusrite Scarlett 18i20 is equipped with eight vibrant and pristine Focusrite preamps. For over 25 years, Focusrite's award-winning pres have proven their mettle in pro studios around the world. Focusrite ports their considerable design savvy into the transparent, low-noise, low-distortion preamps in the Scarlett 18i20. This is the same technology found in Focusrite's flagship products, giving you gobs of available headroom to accommodate your dynamic, condenser, and ribbon mics on any source, no matter how boisterous. Of course, you also get phantom power for your mics that require it.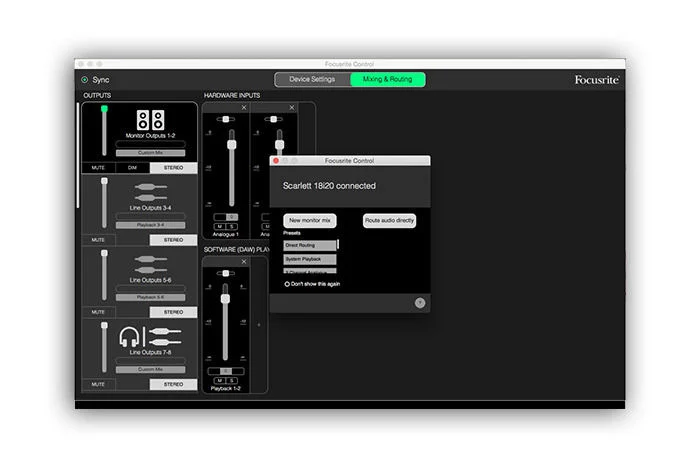 Create the mixes you need and route them where you want
To keep that high channel count under control, Focusrite includes their acclaimed Focusrite Control software for ultimate flexibility. Create up to six separate mono mixes or three stereo mixes, each routable to any of the Scarlett 18i20's outputs. Save your mixes for instant recall later on. Reroute your signal path without having to replug your whole studio. The Scarlett 18i20 was built with flexibility in mind. You can even plug the Scarlett 18i20 into your iPad via the Apple Camera Connection Kit and record on the go.
Remote control from your iPhone or iPad
With the free Focusrite iOS Control app, you can adjust the mixes you made with Focusrite Control on the desktop app from your iPad, iPhone, or iPod touch.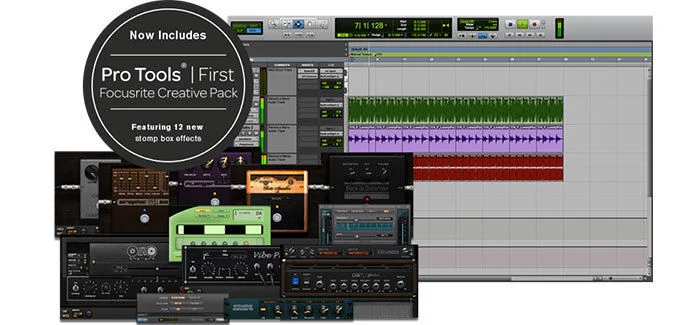 Exclusive software bundle gets you up and running fast
The Focusrite Scarlett 18i20 ships with a killer software bundle headlined by the exclusive Pro Tools | First Focusrite Creative Pack, which features a 16-track version of the DAW with 12 additional plug-ins, including Eleven Lite guitar amp emulation. You also get Ableton Live Lite, Softube's Time and Tone Bundle, the Focusrite Red Plug-In Suite, 2GB of Loopmasters samples, and more. Focusrite has included everything you need to get up and running fast:
Red 2 and Red 3 Plug-in Suite
Softube Time and Tone Pack
Exclusive Pro Tools | First Focusrite Creative Pack
Ableton Live Lite DAW software
Loopmasters sounds and samples (2GB)
Novation Bass Station VST and AU plug-in synth
XLN Addictive Keys
Focusrite Control iOS remote control software
Focusrite Scarlett 18i20 Features:
Optimized second-generation technology
A ton of I/O for an interface in this class
Up to 18 inputs and 20 outputs
8 award-winning mic/instrument preamps
Re-engineered instrument inputs accommodate the hottest pickups
8 channels of ADAT, 2 channels of S/PDIF
16 channels of MIDI
Dual headphone preamps
Class-leading converters, sample rates up to 24-bit/192kHz
Create the mixes you need and route them where you want
Vanishingly low latency lets you monitor with plug-ins, no DSP required
Flexible routing options make it easy to change signal flow without replugging cables
Exclusive software bundle gets you up and running fast