Microphones
Showing 1–40 of 284 results
Sold out!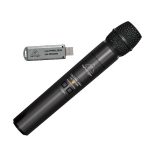 Behringer Ultralink ULM100 USB Digital Wireless
2.4GHz Digital wireless microphone with USB receiver.
The ULTRALINK ULM100 gives you the freedom to work the room without the hassle and restriction of cables holding you back. This handheld dynamic mic delivers high-quality sound reproduction thanks to its built-in transmitter, which operates in the license-free 2.4 GHz range. And because the receiver can be connected directly to your PC/Mac computer's USB port, you can record directly into your favorite DAW application.
Interference-Free Performance
Behringer's state-of-the-art transmitters and receivers operate in the 2.4 GHz frequency band, which is well out of the way of TV stations and cell phone towers, two of the main culprits that wreak havoc in the wireless zone. And because it is digitally encrypted, your signal gets through in all its high-definition quality, without the random artifacts that often plague other wireless systems.
Extended Battery Life
Replacing batteries in wireless mics can get expensive really fast—and having them die in the middle of your set can be a showstopper! That's why Behringer devoted extra time in developing ULM USB Series, ensuring that battery life is extended as long as possible. You get an honest 8 hours performance time from a pair of AA alkaline batteries, which are available virtually anywhere on the planet.
Convenient Control
It can be a real hassle running back and forth to get your volume set just right, so the ULM100 features easy-to-operate Volume Up and Down buttons right on the microphone body. And should you accidentally wander into the "Feedback Zone", there's a handy Panic Mute function that engages when you press and hold the Volume Down button.
Ready for the World
Operating in the 2.4 GHz band allows BEHRINGER ULM Series USB Wireless Microphone Systems to be used across the globe without any special licensing requirements.
2.4 GHz digital wireless microphone system with handheld microphone and USB receiver
High-quality microphone capsule for dedicated vocal applications
Increased range for audio sensitivity
Automatic pairing for easy and intuitive setup
Integrated volume up and down buttons on handheld microphone
Dual mode analog/USB digital audio interface with automatic sensing
Panic mute function
Low battery Indication
Receiver dongle powered via USB interface
not rated
Call for Price
Read more