Pro Audio
Showing 1–40 of 139 results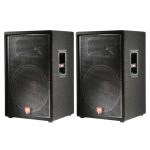 JBL JRX110 Speaker Systems Pair
JBL sound at an affordable price.
The JBL JRX110 10" 2-Way Speaker Cabinet is ready for your live music or PA needs. 2-way system with 10" woofer, 1" coil compression driver with 1" exit, and a 90° x 50° horn. Trapezoid design.
Features American-made JBL drivers, beefy JBL crossovers, MDF cabinets, heavy-duty recessed handles, curved steel grilles, dual-socket polemount system, and rugged carpet covering.
The JRX110 is road-tough and has the renowned JBL sound. It also features Progressive Transition Wave Guide horn design for enhanced high-end performance and SoniGuard circuitry to protect driver voice coils from feedback and clipping damage.
not rated

Call for Price
Read more