Ukulele/Banjo/Mandolin
Showing 17–19 of 19 results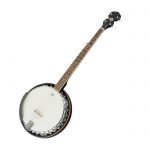 IRIN High Quality Banjo
The 30-bracket IRIN banjo features a Nato resonator and neck. A chrome-plated armrest makes playing comfortable, and the geared chrome tuners will keep you in tune. A genuine Remo head completes the package, making this banjo an amazing value.
not rated
₨

20,000
Add to cart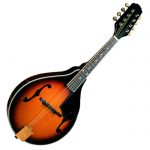 IRIN High Quality Mandolin
Sporting a gorgeous finish, the IRIN Mandolin is a well-built, traditional A-model mandolin. It features clean workmanship throughout and projects a bright tone with lots of bark. With an easy-to-play neck and adjustable bridge, the IRIN Mandolin is perfect for beginners who wish to play bluegrass or any other style of music. Finishing touches include chrome tuners and nickel-plated frets.
not rated
Call for Price!
Read more
Soprano 21″ Ukulele Sapele Wood
In Hawaiian, ukulele means "the gift that came here". It was introduced to Hawaii by Portuguese immigrants in the 19th century.
Ukulele is a four-stringed plucked instrument of Hawaii, and a member of the guitar family. A folk saying goes that it is a cute instrument which sounds pleasant and is easy to learn, suitable for both adults and children, and it can inspire the potential of rhythm as well. There is no song you can't play as long as it's in your hand.
not rated
Call for Price!
Read more