Electronic Drums
Showing all 37 results
Sold out!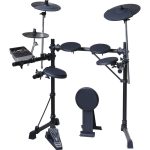 Behringer XD60-USB Electronic Drum Set
Ready to Rock Right out-of-the box
We know how much you love to play, so we designed our XD Series drum kits for fast and easy, tool-free setup. Just pull the kit out of the box, position the drum and cymbal pads the way you like 'em and plug in; it's just that simple. And when you're finished playing, just fold up the kit and stash it behind the couch or underneath the bed. Now your significant other will still respect you in the morning!
True-to-Life Feel
The way drums "feel" is one of the most important factors, especially for drummers who use electronic drums for practice and then return to an acoustic kit for live performance. So we gave our pads a natural rubber surface, which mimics the feel of real skins and minimizes false triggering. All of our kits feature sturdy, extruded aluminum frames, which provide a solid foundation for the drum and cymbal pads. You'll really appreciate this added stability when you're rockin' out full-tilt.
Sound Quality
Easy setup and feel are important, but how do they sound? Thanks to their vast libraries of top-notch studio and live drum, percussion and cymbal sounds, XD Series drums sound great! Whether you choose the ultra-compact XD60-LE or full-size XD60-USB with 110 sounds each, or opt for the XD70-USB with 392 sounds, you'll get professional, studio-grade sounds that will simply blow you away. And if that's still not enough, you can always use XD's MIDI capability to build your own library via external MIDI sound modules. Plus you can program and store your favorite kits for instant recall.
March to the Beat of Your own Drum
Acoustic drums sound fantastic, but can cause real volume issues, especially in a small club or when you need to practice at home late at night. XD Series drum kits provide the ideal solution, allowing you to control the volume and still satisfy your desire to rock out. You can practice with the built-in metronome or play along with your favorite tunes thanks to the convenient Aux inputs and USB connectivity. Output options abound including headphones (your neighbors will thank you), stereo and mono Main Outs, plus USB/MIDI for hooking up external sound modules.
Value Proposition
With millions of satisfied and loyal customers, BEHRINGER is the industry leader in both build quality and value. Nothing exemplifies this philosophy more than our XD Series electronic drum kits, which usher in a new era of functionality, features and affordability.
Five-piece electronic drum set with XD60-USB sound module
110 studio-grade drum, cymbal, and percussion sounds
15 programmable drum sets
Realistic feeling, natural playing trigger pads
Dual-zone snare pad for rim-click and rim shot capability
Includes XD60-USB sound module; kick pedal, pad and stand; hi-hat trigger pedal; 8" dual-zone pad; (3) 8" single-zone pads; (3) 12" cymbals; drum rack with mounting hardware (preset for quick setup); multi-pin breakout audio cable snake for easy set up; pair drumsticks; drum key; Quickstart guide and assembly instructions
Works with iPad / iPhone via Apple USB Adaptor (sold separately)
USB / MIDI output for use with drum module software
Seamlessly connects directly to your iPod, iPhone, iPad, or CD player via 1/8" input for play along use
All sounds are velocity sensitive for natural dynamic response
Ships ready to rock with everything you need to start immediately
High-quality components and exceptionally rugged construction ensure long life
not rated
Call for Price
Read more