Tama Drums
Showing all 2 results
Sold Out!
Tama Rhythm Mate 5-Piece Drum Kit with Cymbals
TAMA RM52KH6C-GXS - RHYTHM MATE 5 SHELLS 22/10/12/16 WITH HARDWARE AND CYMBALS GALAXY SILVER Drumsets
TAMA's entry-level Rhythm Mate drum kit provides the precise bearing edges for easy tuning that beginners need and the wide tuning range that pros demand. TAMA's original Accu-Tune Bass Drum Hoops offer faster, more consistent tuning than traditional metal hoops. And if that wasn't enough, the hardware is equipped with double-braced legs for increased stability. TAMA Rhythm Mate drums are changing the way entry-level kits are designed.
not rated
Call for Price!
Read more
Sold Out!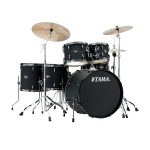 Tama Imperialstar 6-Piece Drum Kit with Zildjian Cymbals
With over 40 years of drum building experience, TAMA knows what drummers really want. With this in mind they sought out to design an affordable yet durable kit that retained many high-end features you'll find in their Silverstar, Superstar, and Starclassic lines. What they came up with was Imperialstar. Every aspect of the modern drum kit was exhaustively examined, reexamined, and then improved before it was accepted as part of the Imperialstar design. PACK CODE: IP62H6NB-BOB Black-on-Black Finish
not rated
Call for Price!
Read more