Roland
Showing 1–16 of 22 results
View cart
"Roland E-X30 Arranger Keyboard" has been added to your cart.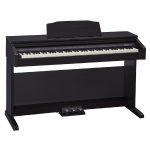 Roland RP-30 Digital Piano
You want to give your child the best start on the piano. But it can be hard to hold their attention, especially when you're competing with smartphones, games, TV, and other modern-day distractions. As Roland's entry-level digital piano, the RP30 is the easy and affordable way to bring music into your home, offering a choice of 15 inspiring volume-controllable tones, practical features that make learning more enjoyable, and a stylish wooden cabinet that will keep it at the heart of your family for years to come.
not rated

Call for Price!
Read more